Igarapés are small forest streams. These watercourses are an integral and essential part of the functioning of the forest, as they function as ecological corridors linking forest fragments and facilitating the movement of fauna and gene flow within populations of animals and plant species. In most cases, these streams are supplied by natural springs.
The Restoration of Igarapés Project aims to re-vegetate degraded areas along streams with trees and other plants native to these ecosystems, and as well to collect garbage that has accumulated in many of these areas due to human activity.
We will start this project by restoring Igarapés in the region of Alter do Chão. There are several such water sources in this region, mainly those that flow into Lago Verde.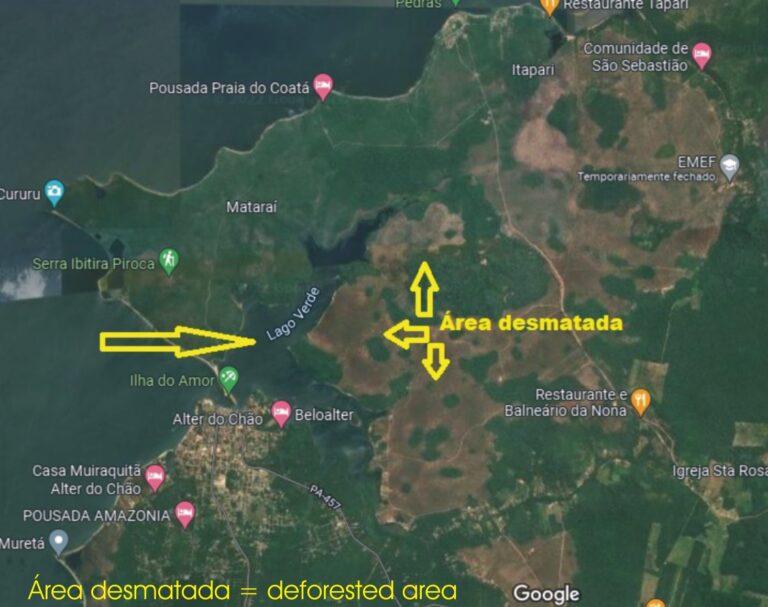 Lago Verde is one of the main tourist attractions in Alter do Chão, and where the most visited beaches in Alter do Chão are located. Areas around this lake have been suffering from deforestation and the accumulation of garbage in its springs and streams. 
This process of environmental degradation, if not reversed, will cause immeasurable ecological and social damage, as Lago Verde has an exuberant, extremely complex and fragile biodiversity. In addition to being a source of life, Lago Verde helps provide, through the large flow of tourism here, a source of income for countless families in the community of Alter do Chão.
We aim to collect seeds from these areas and grow them in our nursery, and in the future carry out restoration projects with these plants. We will also clean these streams of garbage left by their regulars. We will also seek to raise awareness among people who frequent these areas by installing signs emphasising the importance of collecting their garbage ("you pack it in – you pack it out"). 
But for ACRAA to continue developing and carrying out this and other projects, we need your help. Please click on the "Donate" link above. Any amount donated will be important to our continued work in defense of the Amazon forest and the peoples. Thank you!