The ACRAA nursery is located on a wonderful property located right in the village of Alter do Chão [1], this only a short walk (15 min.) from the main village square or Praça, and only two blocks from the edge of a forest reserve that surrounds the village (Figure 1). This property will also be the home of our future "Center," a place that we hope will become well known in the region and beyond as a meeting and educational center for people interested in reforestation and agroforestry in the Amazon. See future ACRAA center here.
The nursery had its beginning in early 2020 with just a few seedlings, but now covers an area of about 250 square meters and with an ever-growing number and varierty of plants. Below is a selection of photos and videos that show this nursery on May 21, 2022. For a history of the nursery's development. Click here – ACRAA Nursery: The beginning.
[1] This property consists of two large village lots, one along side the other. These were purchased by Thor in late 2019. Both lots are fully documented (total area 34 m x 40 m).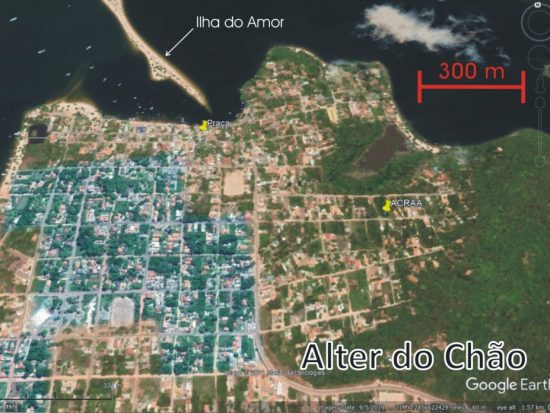 ACRAA Nursery: May 2022 Status (appologies this section out of date, to be updated soon)
Expansion of the nursery to it's present size (250 m2) was completed in March 2022, and installation of the new watering system was completed in mid-May. With ample space now, we have been able to organize the plants according size, species and future use – ecological restoration or agroforestry development (see links below). 
The photos and videos below were taken on May 21, 2022. Note both videos are essentially the same, with the first done in portugues and the second english.
Plants for use in Ecological Restoration